Blog
Home
Blog
Uncategorized
Top 6 Benefits of a Human Capital Management System
Home
Top 6 Benefits of a Human Capital Management System
Top 6 Benefits of a Human Capital Management System
In the vast majority of companies, PEOPLE are the most important asset and typically the largest expense. A human capital management system provides a platform for attracting, developing, and managing a business's most important resource – talent. However, many companies may not be clear on the many benefits and might subsequently wrestle with how to justify such a system.  The truth is that a human capital management system will transform how a business interacts with all levels of personnel and will more than justify the investment.
Here are the top 6 benefits to a human capital management system. The efficiency and many benefits of a well-implemented system will pay for itself in short order.
Unified Platform for Payroll, Human Resources, and Management
A human capital management system will provide your business with an integrated platform for payroll management and human resource functions. This means that two of your most critical departments will be able to not only use one program but will also be able to share data when appropriate.
The integrated system can also make time, attendance, and productivity data available to managers. This puts valuable analytics in their hands that allows them to analyze employee performance as well as producing reports.
In short, an integrated human capital management system allows your business to become more data-driven. Quantifying results in the business world is, after all, everything.
Talent Development and Retention
At the end of the day, it's not tools, buildings, or machinery that separate great companies.  Rather, it's the people that they employ that align with long term success.  Leading companies know that talent is the great business differentiator.  Human capital management systems dramatically improve managing and developing talent.  Specifically, the integrated platform allows for manager and peers to easily provide input into performance reviews.  Additionally, when competencies are assessed and gaps are determined, there are built-in development actions, such as company endorsed training modules.  Lastly, performance reviews are seamlessly tied to salary planning, which helps reinforce pay for performance guidelines, as well as ensuring equity across various managers and departments.
Greater Convenience for Employees in Time, Attendance and Benefits
Additionally, employees will be able to use a human capital management system for critical tasks, including remote clocking in and out (if and when appropriate) and monitoring of hours worked, and also being able to directly access benefit information and make changes where appropriate – cutting out the middleman.
After all, when your payroll and HR departments go through more paper than is produced by a small forest…that wastes time, material AND money.
Check out our blog on how time and attendance software helps save you money.
Recruiting Made Easier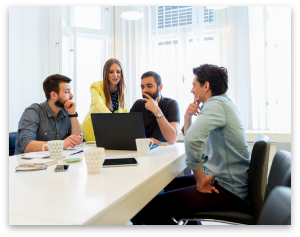 Another benefit of a human capital management system is easier recruiting. Both human resource professionals and management will find it easier to attract quality resumes, track candidates, and identify the most qualified candidates in a data-driven manner.
This helps you expediently identify the right person for the job and can also dramatically improve the onboarding process.  Human capital management software provides background checks, benefit enrollment, and can even ensure that critical training materials, such as documents or videos, are completed.
Scheduling and Payroll Reporting In the Same HCM System
By implementing an integrated human capital management system, your company can bring scheduling and payroll reporting all under one umbrella. This helps you track hours much better, and thereby manage overtime.
Additionally, the tracking of hours will enhance the accuracy of payroll reporting. Accurate reporting results in accurate hours paid, which keeps your employees happy and avoids any potential regulatory hassles for unpaid hours.
Enhanced Reporting and Measurable ROI
With these benefits comes the ability for far greater and more in-depth reporting. Want to track overtime over the whole year? You have that. See when attendance is most likely to suffer for seasonal reasons? It's available.  Need to benchmark salaries to determine if your pay structure is competitive? It's all there.
There is also a tremendous amount of additional data that is available for custom reporting.  Companies can quickly and easily track critical information in order to take corrective actions, determine ROIs, etc.
Based on the robust functionality and efficiencies provided by an integrated platform, most companies can easily justify the investment in a human capital management system.
If any of these benefits could improve your business operations, feel free to CONTACT US. We are here to help.